The 2020 NBA rookie class is full of star-studded talent, many of which have dominated the League this season, set records, and proved their ability to not only impact a franchise but help their teams rebuild.
The Orlando Magic are in that rebuilding phase. Despite ending the season with a 21-51 record, many believe that there are brighter days ahead for the promising young team. That includes their newly acquired guard RJ Hampton, who has shined bright since getting traded down South.
You know the name: RJ Hampton, whose journey to the pros was both unconventional, and monumental as a 5-star recruit. The Little Elm-native confidently passed upon his final three collegiate offers from Kansas, Memphis, and Texas Tech to take his highly sought-after skills overseas, as did Charlotte Hornet's rookie LaMelo Ball. Hampton opted to play in New Zealand, suiting up for the Breakers in the National Basketball League. 
Looking back, Hampton says he feels like the NBL helped prepare him for the Association:
"The NBL definitely prepared me for the NBA" he says confidently as if the answer is quite obvious over ZOOM in April. "I think playing against grown men at such a young age helped me mature a lot faster I think than I would have if I went to college."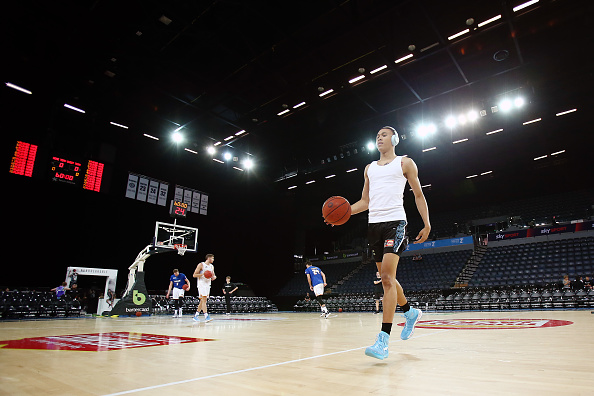 After getting selected No. 24 overall by the Denver Nuggets, Hampton was traded to the Magic in March, where he's since then impressed while earning significantly more playing time. Prior to the trade, Hampton only saw the floor for 9.3 minutes per game, but while suiting up for the Magic, he was given more opportunities to showcase just how explosive and impactful his game truly is while playing 25.2 mpg. 
He scored his first career double-double in a 119-112 win against the Detroit Pistons, dropping 16 points and a career-high 10 dimes, shooting 5-of-11 from the field. Hampton, who later admitted that he's been feeling more "comfortable" on the floor, was showered by water and hugged by teammates.
"I get a lot of playing time here with the Magic," Hampton says, "so every game is a new game, a fresh start…It's a new opportunity for me, a new place where I can showcase my skills. We have a lot of young guys on the team so I'm getting to mesh with them (and)  getting to grow with them, I think it's gonna be fun for me."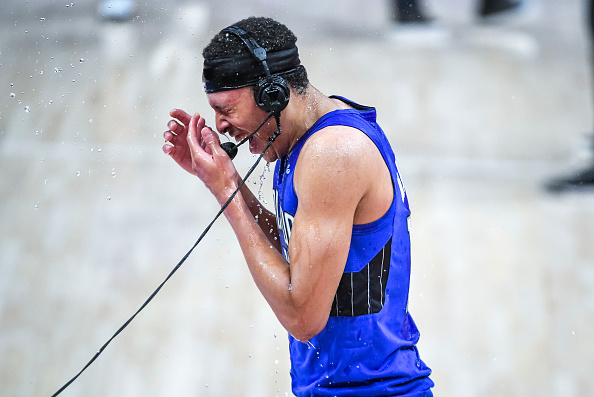 Hampton finished his rookie season scoring consistent double-digit numbers, including a career-high 19 points against the Minnesota Timberwolves.
He averaged 16.0 points, 7.1 rebounds and 5.6 assists per game in the Month of May, leading all rookies in rebounding.
That improvement hasn't gone unnoticed, either. On Monday, Hampton was named NBA Rookie of the Month for games played in May, making him only the seventh Magic player to earn the honor and the first to win it since Elfrid Payton in 2015.
As a player on the rise that has continued to prove himself and adapt to whatever has been thrown his way, Hampton has been able to compete, and learn from, players around the League this season, from Russell Westbrook and Zach LaVine to scoring-champ Steph Curry.
"It's fun competing against those guys," Hampton says, "[But] at the same time, you want to take their heads off anytime you do play them and get the edge on them but I can always grow and learn from playing against those guys and watching their film." 
Hampton's addition to the team will surely only continue to help elevate the Magic, and his speed and playmaking abilities have already been deemed a "breath of fresh air" for the franchise. As he continues to solidify his role on the team, it's only up from here. 
The post RJ Hampton is Finding His Rhythm With the Orlando Magic appeared first on SLAM.