"I don't think people realize really how that was.
People think like, y'all gotta understand, it was five of us like 20 and under. So everybody is literally—we all at the starting point. We all right here. We at the starting point for the race of our careers. So everybody tryna get out the blocks, you feel me?"
In 2000, the Los Angeles Clippers made a landmark decision by drafting East St. Louis High School forward Darius Miles with the third overall pick in the draft. In a trend that had become increasingly popular after the success of players like Kevin Garnett, Kobe Bryant and Tracy McGrady, Miles became the highest-drafted high school player in NBA history.
Fifteen picks later, the Clippers would take DePaul wing Quentin Richardson, setting themselves up with a young and dynamic roster that also featured Lamar Odom (the fourth overall pick in the 1999 NBA Draft) and former 13th overall pick Corey Maggette.
Once Elton Brand entered the fold, the Clippers looked to be a team on the rise, built for sustainable success.
Unfortunately for the Clippers, Los Angeles and the NBA, a front office led by the late Elgin Baylor opted to trade Miles and Odom before the young team could dig in and reach their full potential, prompting Richardson's own early exit.
While the eventual addition of players like Sam Cassell and Chris Kaman allowed the Clippers to briefly regain their footing, it wouldn't be until nearly 10 years after they lost the promising Miles and Richardson that they regained their footing.
Cognizant of the reputation that follows the franchise and the duo's short-lived era with them, Q-Rich and D-Miles got up with us to look back. In an interview with SLAM, the lifelong friends discuss their time with the Clippers, the current NBA landscape, and how their time in the NBA transformed them off-the-court.
SLAM: What do you think about the less high-profile teams showing out—guys like Trae Young getting to show what they got on the national stage?
DM: I think it's the generation change. It's time for a new generation, you got a new generation of superstars. Like, people forget LeBron James is 36. He just went to the Finals for a decade! You gotta, you know—he got bout two-to-three more years left—so now we gotta see some more faces in those positions and that's what we're seeing in Trae Young and Devin Booker and all these other teams that's in it.
I think it's just the generation change. We're in a new era.
SLAM: I just read something where Q-Rich was talking when y'all guys came into the league with the Clippers, y'all felt like y'all had to represent for the youth, to be that new generation. So do you see anything in any of these young guys that reminds you of yourselves in any way?
DM: Kinda all of 'em 'cause all of 'em are young. All of 'em young like us. We was the only ones; we were sort of the only ones. We was the only team that had five-to-six guys that's under 21-years-old. You know what I'm saying? Like, this has never been done before. So we were the first of the era. But looking at the era now, you got guys that's 23 and under and they All-Stars.
QR: Everywhere!
DM: [Laughing] They the top scorers in the league. They the top rebounders. Like these guys are young and it's looking like us. So everybody look like they kiddish, you know? They celebrating. They play a lot. Like, everybody kinds look like us 'cause they a bunch of young guys.
QR: The two—the teams—I would agree with what D is sayin' as far as across the league, it's so many young players is just doing it big and killin' and, like he said, being All-Stars and borderline superstars and superstars. But the team that I looked at and when I look at them and say man they kind of remind me of us as a young team—even though they had more success than us—I kind of look at the Memphis Grizzlies.
They got a real young core. It's not like—even though there's young guys sprinkled across—it's not really a team. Maybe them and Sacramento. Sacramento a little bit too with their youth and the way they got a bunch of young guys that's like—even though they haven't yielded the total success—they have really exciting players and they play hard and they go out there and do their thing as young guys.
SLAM: Speaking of the Clippers still—y'all had [Corey] Maggette, [Elton] Brand—y'all had, you know, talented guys. What do you think contributed to you guys not being able to be a playoff team like the Hawks or the Grizzlies?
QR: Just us not staying together. Like, we didn't keep the core together. We succeeded. What people don't realize—they be like man, we got killed—that really ain't the story. Like, when we got there they won 17 out of 82 before we got there. So our first year we won 31 games. Then our next year we won 39 games. We was two games out the playoffs our second year. Then our third year, I left. Lamar [Odom] left. They kind of blew up the whole team.
So we had success. It was on our way to success but we ain't get a chance to really kind of stick together and get a good three—like a good four years—of it. I don't think people realize really how that was. People think like, y'all gotta understand, it was five of us like 20 and under. So everybody is literally at the—we all at the starting point—we all right here. We at the starting point for the race of our careers. So everybody tryna get out the blocks, you feel me?
So it wasn't like—as much as we was homies, all friends, all bros, and we grown and we still got those relationships—man those first 1-2 years were some of the most competitive years you would have ever saw because we didn't all get to play. That's why people used to see us get in in garbage time—whenever, it didn't matter—it was time to do yo' shit. You know what I'm sayin'? That was it, point blank because we didn't know. We was all at the starting point, so we looking at—maybe D-Miles getting all the success right now—we all looking like, "man we want to play, we want to play."
So we totally support him—you see it in the clips, any time he do anything, all us jumping up and down and vice versa. If any of us do anything, they all—we all—cheer for each other. But it was like, at that time, [Alvin] Gentry wasn't playing us and I talked to Coach about this like once I played for him in the future and all of that and I know him. It was like, he wasn't playing all of us.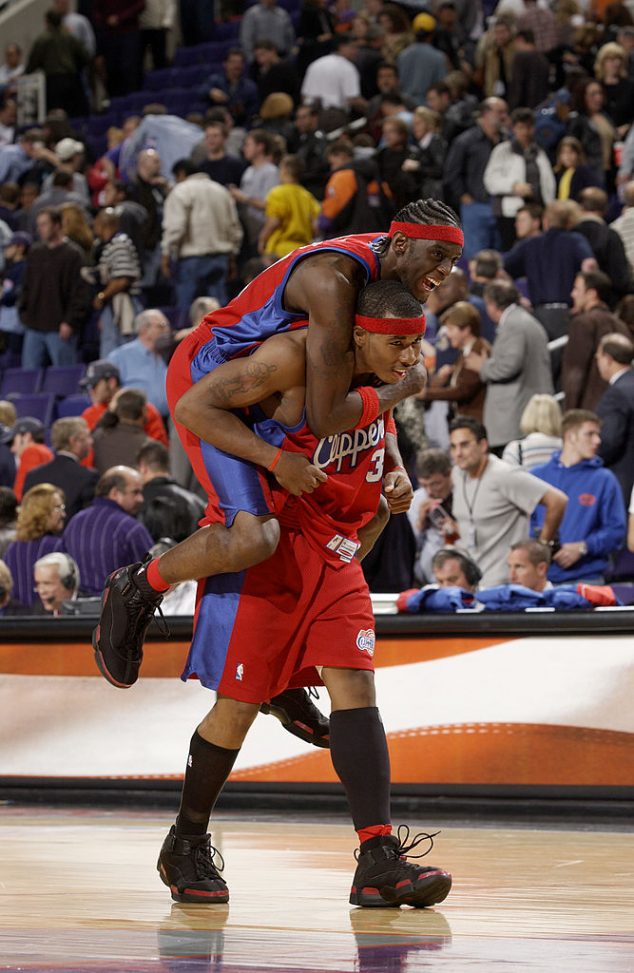 He had made a decision that, "well, okay, if Q plays, Corey can't play."
"If Corey play, Q can't play."
You know what I'm saying? D-Miles is playing just because he was in that Sixth Man role and he can play damn near any position. But then Keyon [Dooling] might not play because J-Mac (Jeff McInnis) playing.
DM: Yeah, Earl Boykins played sometimes.
QR: So it was like when we got out there it didn't matter how much time was left, it didn't matter what was going on. We had to show our worth. So that's why you saw what you saw.
You saw boys going out there going crazy hard, trying to dunk on people, D-Miles crossin' people, Keyon "Smitty"-ing people, you seeing everybody's specialty moves because that's what you say:
"Aye when you get out there, do your special move."
DM: Do your special move. Do what you do.
Like I said, people at it and look back on it and you gotta really dialogue it and see, we had success… We just got on a team that was at the bottom of the barrel. Like, you know what I'm saying? We won 15 extra games than what they did when they had veterans.
Because they had [Maurice] Traylor on this team. They had Lamar on this team. They had all these guys—these veteran guys on this team—and they came in brought basically a high school and college kids on this team and we win 15 more games than what they won last year. We add another eight games we won the previous [year] and we was two games out the playoffs.
So the next year, it was etched in stone that we were finna do it. Like the second year we put Elton in the All-Star Game, you know what I'm saying? We was comin'!
QR: Everybody got paid from that court too.
DM: Yeah. We was comin' but we only played two years together but everybody thinks we played a whole decade or half a decade or something like that.
SLAM: Was there a feeling beforehand, like some of these guys aren't gonna be here three or four years down the line?
QR and DM: Noo!
DM: It was a blindside because I was the first to leave. Like, during the summertime, I got traded. And that was a culture shock to everyone because they were looking like, "Oh, he's the one on commercials, [that] they puttin' on the billboard."
The last person that's probably going to get traded is D-Miles or Lamar. And D-Miles and Lamar was the two that was out of there that summer. You know what I'm saying? It was a culture shock for everybody. It threw us off. It showed us the business. Because once I got to Cleveland, I realized how good I actually had it.
'Cause when I got to Cleveland it was like starting over all over again. They was a young team, they bringing these high school cats in, they doin' all this stuff, but it wasn't the same. We wasn't a team environment. We used to be together every single day [with the Clippers]. Like six, seven of us. Like we together.
QR: Foreal.
DM: I'm talking Thanksgivings. Christmases. My mama cookin' at the crib. Like we together all the time. On the road we eatin' together: "What we finna do?" Go to the movies and eat.
SLAM: So you feel like it was a different vibe in Cleveland, like with the teammates?
DM: Yeah, it was 'cause I didn't know them as well. Like I knew the guys. I knew DeSagana Diop. I knew Dajuan Wagner. I knew Ricky Davis. I knew a few of these guys but we wasn't as close as I am with Q and Keyon and Corey. You know what I'm saying? Me and Q and Corey, we from the same state. We grew up, basically, with each other.
QR: AAU.
DM: Then addin' Keyon onto it. Then, you know, we used to play against Elton and Lamar during AAU. Corey played with Elton. It was like a whole connection. We was already connected already.
But when I got to Cleveland, it was just, a different environment. It wasn't the same. It wasn't team-oriented. I was still team-oriented because I made sure every team I went to I took time out the year to go and go over all my teammates houses, or create an environment like that, because the best environment for teams is when you bond together.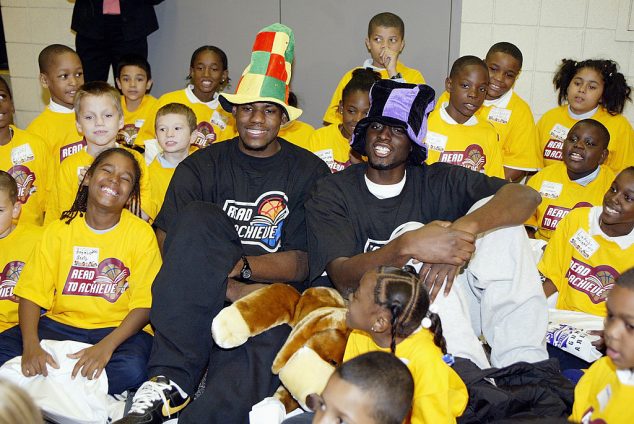 You know what I'm saying? You build some type of trust. And I tried that with every other team but it wasn't the same as I had with the Clippers.
SLAM: They say the relationships you build inside the facility are different than the ones you build outside of it.
D-Miles: And sometimes it be just one year. One year everybody the best of friends. We together this whole year, it's like a whole bonding journey and then the next year we might not even talk to each other. You need that bond or that year to get the on and off-court chemistry. Like Q had it in Phoenix, you know?
SLAM: Q, how did you feel about that? Because it was one year but y'all won 62 games.
QR: 62-20. That was, I mean, I was just in the studio in Atlanta doing NBA TV the other day and Jim Jackson and we was talking about it then because Jim Jack got brought in later in the [2004-05] season.
But he was speaking on how our team was such a family environment and we just embraced him as a brother, it was like, seamless. Because that was like one of the most—probably the most—special years I had in the NBA as far as team success and it was because of the way we were from Day 1.
[Note: Prior to signing with the Suns, Steve Nash took a pay cut to make sure the Suns could sign Richardson in July 2014]
We signed and we got in town like mid to end of August when most teams get in town like sometime mid-September, some after Labor Day and all of that. We were all in town. The main pieces were all in town. Really not just the main pieces, we were all in town. Working out at the facility, playing pickup, getting to know each other like literally every day.
That's when I got a relationship with Joe Johnson 'cause him and his boys, we all around the same age. We would get through working out, hooping, practicing, then we'll all go—I'll go to his house…be playing Madden, video games, whoopty-whoop whatever, just kickin' it. Then we go out to eat. Steve, me, Amar'e [Stoudemire]. Everybody. It was like it became a thing.
---
Currently co-hosting the popular Knuckleheads podcast, Richardson and Miles have used the connections they've forged throughout their playing careers for more than just post-NBA opportunities, but the pair recognizes their status as members of the NBA fraternity and utilize it to grow their audience and guest list.
Q-Rich and D-Miles have become known for making their guests comfortable simply through being themselves and holding casual conversations. The sixth installment of their season will be entirely virtual, with high-profile names like Ray Allen, Donovan Mitchell, Dr. J, Jamal Mashburn, Chris Mullin and Bradley Beal set to join the show.
Even Miles' former teammate, Dajuan Wagner, will be on the show.
"That's our 'Sucker Free' episode," Miles says. "I'm glad I got an opportunity to represent him and let people hear his story."
The post Darius Miles, Quentin Richardson Talk Shop: The Clippers That Could Have Been appeared first on SLAM.