What's the buzz on Twitter?

Michael Gallagher
@
MikeSGallagher
Assists per 36 leaders in the preseason (min 30 total minutes):
Kyle Lowry – 18.4
Luka Doncic – 15.1
Chris Paul – 12.8
Ricky Rubio – 10.7
Nikola Jokic – 10.2
Alex Caruso – 10.1
Cam Payne – 10.1
Shai Gilgeous-Alexander – 10.1
LaMelo Ball – 9.9
D'Angelo Russell – 9.8 –
9:58 AM
Joe Gabriele
@
CavsJoeG
#Cavs
-Bulls all knotted up at 52-apiece at H; CLE, 52%FG but 11 TO; teams, combined 7-25 3ptFG; Allen, 10pts, 5-7FG, team-hi 6reb; Rubio, 9pts, game-hi 9asst; Markakanen, 9pts, 4-6FG; Cedi, 8pts, 4-5FG.
pic.twitter.com/KX0ev1kXzF
–
8:16 PM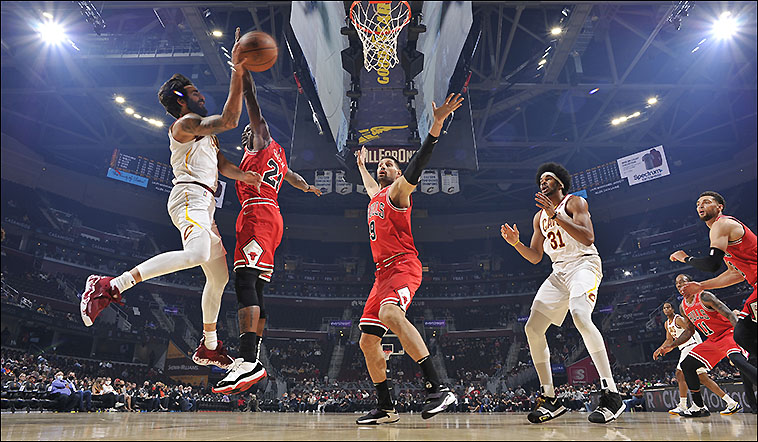 Chris Fedor
@
ChrisFedor
#Cavs
Ricky Rubio already with 8 assists in 11 minutes in this spot start. Last year, when Darius Garland was out of the lineup, the Cavs were using Damyean Dotson, Yogi Ferrell and some other dudes I can't remember at point guard. –
7:43 PM
Rob Schaefer
@
rob_schaef
Starters for Bulls-Cavs tonight:
CHI — Lonzo Ball, Zach LaVine, DeMar DeRozan, Javonte Green, Nikola Vucevic
CLE — Ricky Rubio, Isaac Okoro, Lauri Markkanen, Evan Mobley, Jarrett Allen –
6:47 PM
Joe Gabriele
@
CavsJoeG
Collin Sexton and Darius Garland both out tonight for
#Cavs
v. Bulls; CLE will move Ricky Rubio and Lauri Markkanen into the starting five. –
5:37 PM
Kelsey Russo
@
kelseyyrusso
#Cavs
J.B. Bickerstaff confirmed that Darius Garland and Collin Sexton will not play tonight.
Starting five: Ricky Rubio, Lauri Markkanen, Isaac Okoro, Evan Mobley and Jarrett Allen –
5:17 PM


Michael Gallagher
@
MikeSGallagher
Ricky Rubio has played 25 minutes next to just Darius Garland, 20 minutes next to Collin Sexton, five minutes with both, and 10 minutes with neither.
Per 36 preseason line of 19/4/8, and feels like he's going to be close to 30 minutes. –
2:21 PM