What's the buzz on Twitter?
David Locke
@
DLocke09
Dante Exum has been released by the Houston Rockets.
Another interesting name released is Kris Dunn, maybe one of the best on ball defenders in the NBA –
5:03 PM

Marc Stein
@
TheSteinLine
Houston has just announced the release of Dante Exum on a day numerous established NBA names (including Kris Dunn, Marquese Chriss, Patrick Patterson and Harry Giles … after Avery Bradley last night) have lost out on NBA roster spots.
More NBA from me:
marcstein.Substack.com
–
4:56 PM

Dane Moore
@
DaneMooreNBA
Two recent Timberwolves lottery picks and the last pick of the 2020 Draft battled it out for the final roster spot on the Grizzlies.
Kris Dunn: No. 5 pick, 2016
Jarrett Culver: No. 6 pick, 2019
Sam Merrill: No. 60 pick, 2020
pic.twitter.com/ynMTHV6p7n
–
4:45 PM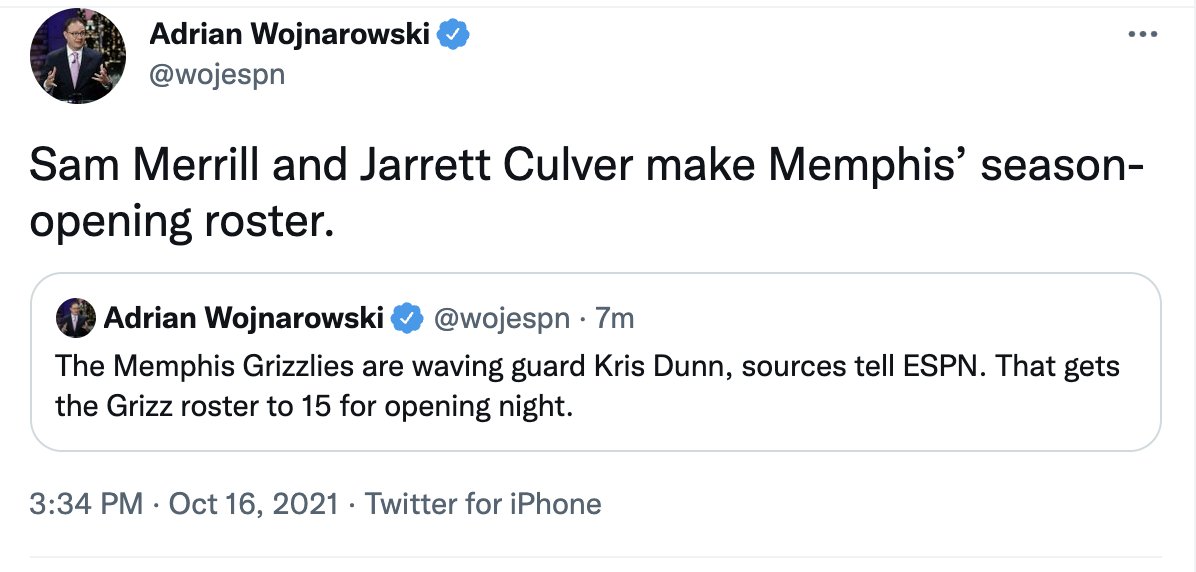 Memphis Grizzlies PR
@
GrizzliesPR
The
@Memphis Grizzlies
today announced the team waived Kris Dunn, Matthew Hurt and David Stockton to finalize their 2021-22 regular season roster.
pic.twitter.com/CQDqqeMZMJ
–
4:36 PM