Those who were there from the beginning will tell you that Kevin Garnett didn't want to make a documentary solely about himself. They'll tell you that as a storyteller, he simply wanted to be a character who was part of a larger story, and everything he's ever done, every basket he's scored (or blocked, or rebounded) are domino pieces stacked within a long trail of other dominos. One decision led others to fall, and the story of Kevin Garnett, the story that will be told in Kevin Garnett: Anything is Possible, is a visual representation of that domino effect.
Co-directed and produced by Eric Newman and Dan Levin, along with producers Mike Marangu, Marc Levin and Brian Bennett—KG's partner at his production company, Content Cartel—the documentary is a look at KG's past, diving deep into the impact he's had on the League and the legacy he's currently leaving as a Hall of Famer.
Garnett had expressed his interest in filmmaking way before the documentary even came to fruition. Stephen Espinoza, president of SHOWTIME Sports, recalls the first time he met KG, back in 2014 while on a flight from New York to China. SHOWTIME, one of the Barclays Center sponsors, was invited to join the Nets on the trip, and Espinoza recalls chatting with KG on the plane about boxing as well as Kevin's post-career plans and goals.
"We ended up talking so long that eventually, they had to separate us because we're keeping everyone else in the cabin awake talking and laughing," he says. "When we finished that conversation, I remember thinking that if there was ever an opportunity to do a project with him, I would jump at it because he is such a great dynamic, peripatetic personality and has really been an icon and a trailblazer in the League and in the culture for a long, long time."
Marc Levin, who first met KG during a Super Bowl LIII party, remembers having earlier conversations with him about his interests in exploring filmmaking and production. Garnett, who had seen Levin's earlier film, Gang War: Banging in Little Rock, was intrigued by notorious gang leader Larry Hoover and interested in telling his story.
Garnett also shared his interest in documentaries with Mike Marangu, who had previously worked with Levin on a number of sports documentaries, including Freeway: Crack in the System, along with being a producer on Iverson. The two had been introduced in 2018, just two years after KG retired, by Brian Bennett.
No shade to other sports docs, but having grown up in the era of hip-hop and the heavy influence of Nas, Tupac and Biggie, KG told Marangu that he wanted his own documentary to be, in his own words, some "gangster shit."
"When you're talking to him and he's literally acting it out, he can't just tell you a story," Marangu says on a Zoom call. "He's full sweat, acting out and imitating everyone's voices. He's just an amazing storyteller and he always says that came from hip-hop…from day one he was like, I don't do anything soft. I see what other players are doing, and I love those guys and all that, but I just want to do all gangster shit."
After that conversation, Marangu reached out to Levin, who reeled in Newman—who at the time was building his work as a filmmaker and producer covering sports. Newman had served as a producer on both The Legend of Swee' Pea and created the vision and executive produced the DeMarcus Cousins film, The Resurgence, with SHOWTIME. Together, Newman, with Dan and Marc Levin created the concept of what Kevin's documentary would be and put together the dense story deck that was presented in the pitch meeting with SHOWTIME.
"I tend to go mad scientist mode with story decks, and I took this to a different level," Newman recalls. That includes "The Butterfly Effect," a diagram he created, which was inspired by an earlier conversation he had with KG, that shows just how much KG impacted the League, the culture and how he paved the way for future generations.
The first meeting with SHOWTIME took place in June 2019, during the NBA Finals. KG, Marangu, Bennett, Newman and Brian Dailey, SVP of SHOWTIME Sports, all sat in one of SHOWTIME's West Hollywood offices, while the Levins called in.
The initial pitch meeting went well and led to another one getting scheduled in July at SHOWTIME's office in New York. Newman and Garnett spent nearly the entire day together, getting breakfast and bouncing around the city. Newman shared his own story about how basketball has played a huge role in his life, a moment of vulnerability that he feels helped create a level of trust and respect between the two early on.
During that meeting, everyone was ready to execute the pitch to the SHOWTIME Sports team. But, as soon as the meeting began, the plan went out the window and the 15-time All-Star immediately took the reins. Garnett had something to say and went into full KG mode. He knew what he wanted this film to be, and just as with anything involving Kevin Garnett, everyone simply watched with amazement.
"He was so animated and couldn't sit still. He's going from sitting straight across from me staring at me to leaning back in his chair to his feet up, to getting up pacing the room, to getting in a defensive stance," says Newman. "He was like, I want to make this about the domino effect of going from high school to the pros. I don't want this to just be about me. I want this to be about all of the other elements and lanes. We kind of had to bring him back and be like, Hey, we're going to cover all of that!"
When Garnett and everyone who was in the room that day (physically and virtually) shook hands and officially greenlit the film, they knew that not only were they about to produce the first documentary about him, but they were going to create an important body of work with cultural significance. Kevin had never gone into tons of detail about his past, simply telling bits and pieces to the media: growing up in South Carolina, moving to Chicago, playing in a pickup game that included Michael Jordan and Scottie Pippen, witnessed by Isiah Thomas, having a heart-to-heart with Thomas about his future. This film would dive deeper into all of it and then some.
"Garnett was always the ultimate story to tell from my generation," says Newman, who grew up rooting for the Boston Celtics and, as a former high school coach and basketball clinic director, was deeply impacted by that '08 championship team. "Our senior year of high school was his rookie year in the NBA, so watching that leap while also having a very meaningful basketball experience of my own was very impactful. Just thinking back on that time, part of our story is looking at this magical 25-year framework—which was launched by his decision and everything else that came with it."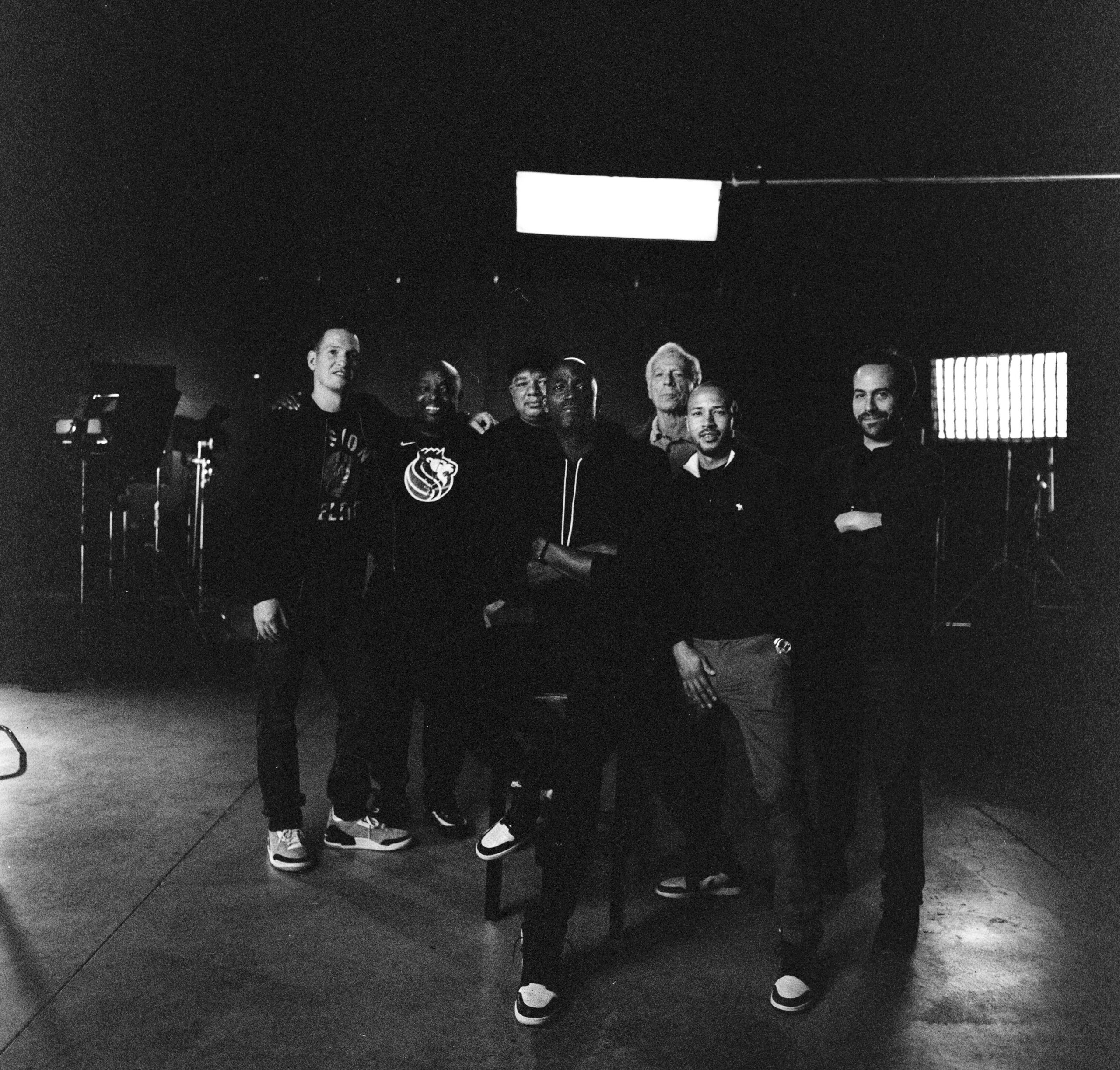 The film, produced by Blowback Productions, Content Cartel and SHOWTIME, is centered around Garnett's impact and journey during this 25-year period. Garnett wanted to keep it real for the film, and for the first time, he opens up about his accomplishments in one-on-one interviews and is honest about the moments that have made him who he is.
"Kevin was drawn by a range of SHOWTIME documentaries," Dailey says. "Kobe, Iverson, most recently Ron Artest, DeMarcus Cousins, the Shut Up and Dribble project with LeBron [James]—there is a connection between all of those subjects. This resonated with KG, and he wanted to be part of our brand of storytelling: bold, unfiltered unapologetic."
"The bar was set high," adds Espinoza, about SHOWTIME's array of films on legendary players around the game. "And Kevin was a trailblazer. I think part of what also makes this film special is to celebrate his career, the competitor that he was, what he brought to the League. Part of it is to sort of show respect and recognize the contributions he's made on a cultural basis, on a sports basis and even on an individual basis with a range of young players today."
Life is oftentimes unexpected, and so was the filming of the documentary, right from the very start. Two days into production, which began in January 2020, the Levins, Newman, Marangu and the rest of the crew joined KG on a beautiful beach in Malibu where he often enjoys working out, meditating and clearing his thoughts. None of them could have known then that nearly 10 miles away, a devastating tragedy would take place 24 hours later on January 26. The news was unimaginable: Kobe Bryant, his daughter Gianna, and her teammates Alyssa Altobelli and Payton Chester, tragically passed away in a helicopter crash.
Kevin's demeanor changed from that moment on. He had lost his little brother and friend.
"[Kevin and Kobe] came in around the same year," Marangu reiterates. "Kevin '95, Kobe in '96. Kobe and [Allen] Iverson were the youngsters that looked to Kevin like, Hey, you made it. What's the NBA like? [Kevin] was really downloading all those guys that came in that '96 year about making the jump, so [Bryant's passing] hit him pretty hard."
"Everything felt different after that, the world was different, he was different after that," Newman adds.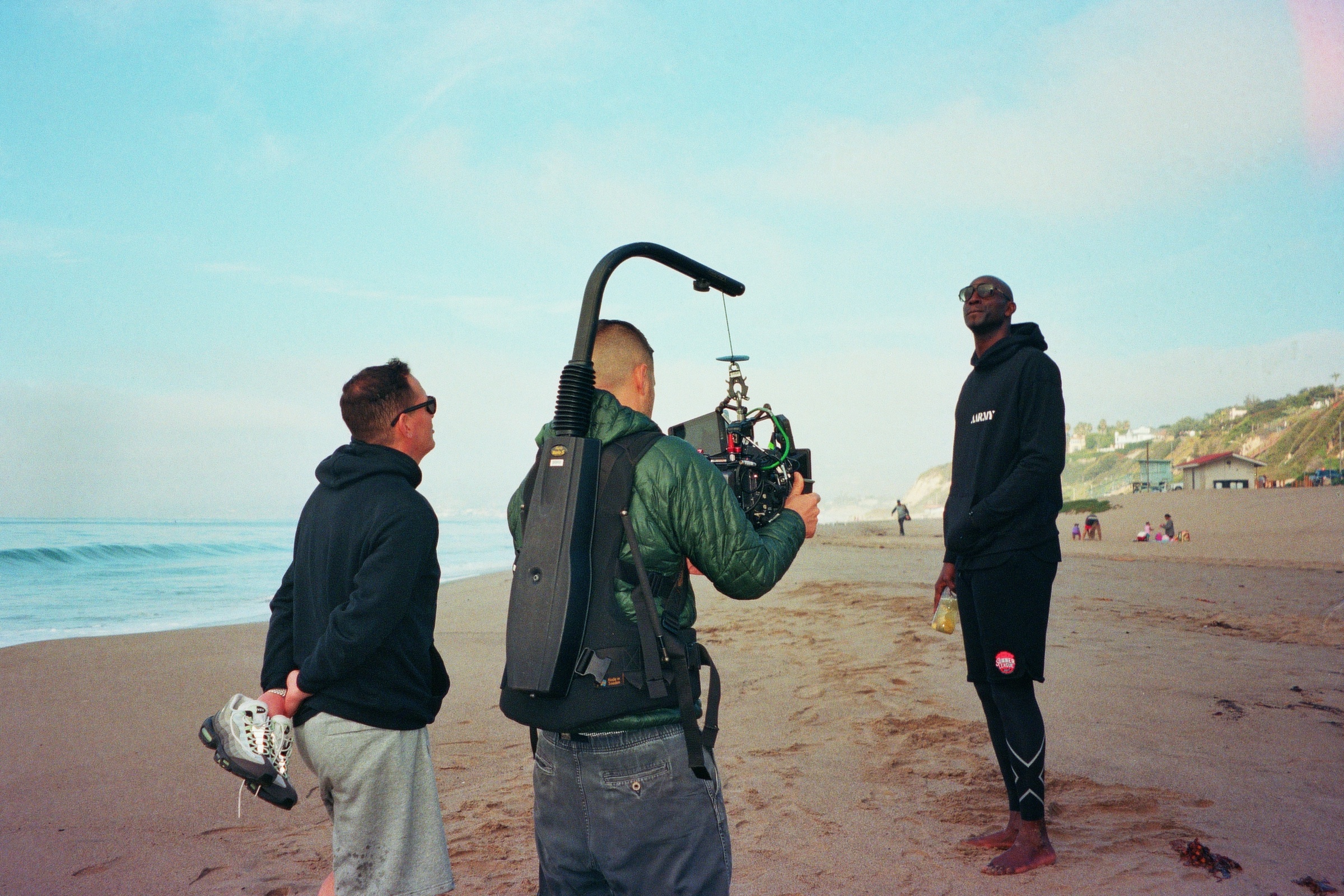 During All-Star Weekend in Chicago last year, the crew joined KG on a trip to visit his former high school, Farragut Academy. They saw the banners, the trophies, the glass windows Garnett often refers to, and, most notably, the star reuniting with his old coaches and laughing and joking as though no time had passed. The producing team saw firsthand just how much that time he spent in Chicago shaped who Garnett is, and the documentary will show a side to him that not many have ever seen before.
"You felt from the moment he had that reunion with his coach and the assistant coach that, that experience [and] that one year at Farragut really is what made him Kevin Garnett. You felt it. You saw his picture in the gym and all the trophies and the retired jerseys," says Marc Levin. "This country kid, who obviously was incredibly talented, was just a [boy] from South Carolina thrown into [an environment like] west Chicago. The gangs, Farragut [had] students fighting every day, and [Kevin] was just thrown into that. Then, [he has] this incredible moment where he made this decision that he was going to take a chance at going pro—it was all palpable, emotional and I had never realized that his high school year was such a crucible in terms of forming who he was."
While the trip to Chicago had its celebratory moments, including the announcement of the Naismith Basketball Hall of Fame finalists, a dark cloud also lingered. The world was still mourning the loss of Kobe Bryant.
"The Hall of Fame press event was at All-Star Weekend in Chicago and that became a whole Kobe tribute, so that affected him, and [it seems like] he still hasn't been able to really talk about it," Marangu says. "That's the most impactful thing during production that happened."
"Chicago was supposed to be a celebration of 25 years, but instead it was this somber, reflective [moment] on Kobe. [Kevin] did two hours on ALL THE SMOKE and it was almost like therapy…which made the Farragut visit that much more meaningful. He was really reflective after that. We finished and did that exit shot of him leaving the building and to me, it was so much more than filming a guy leaving the building. The whole day was really impactful."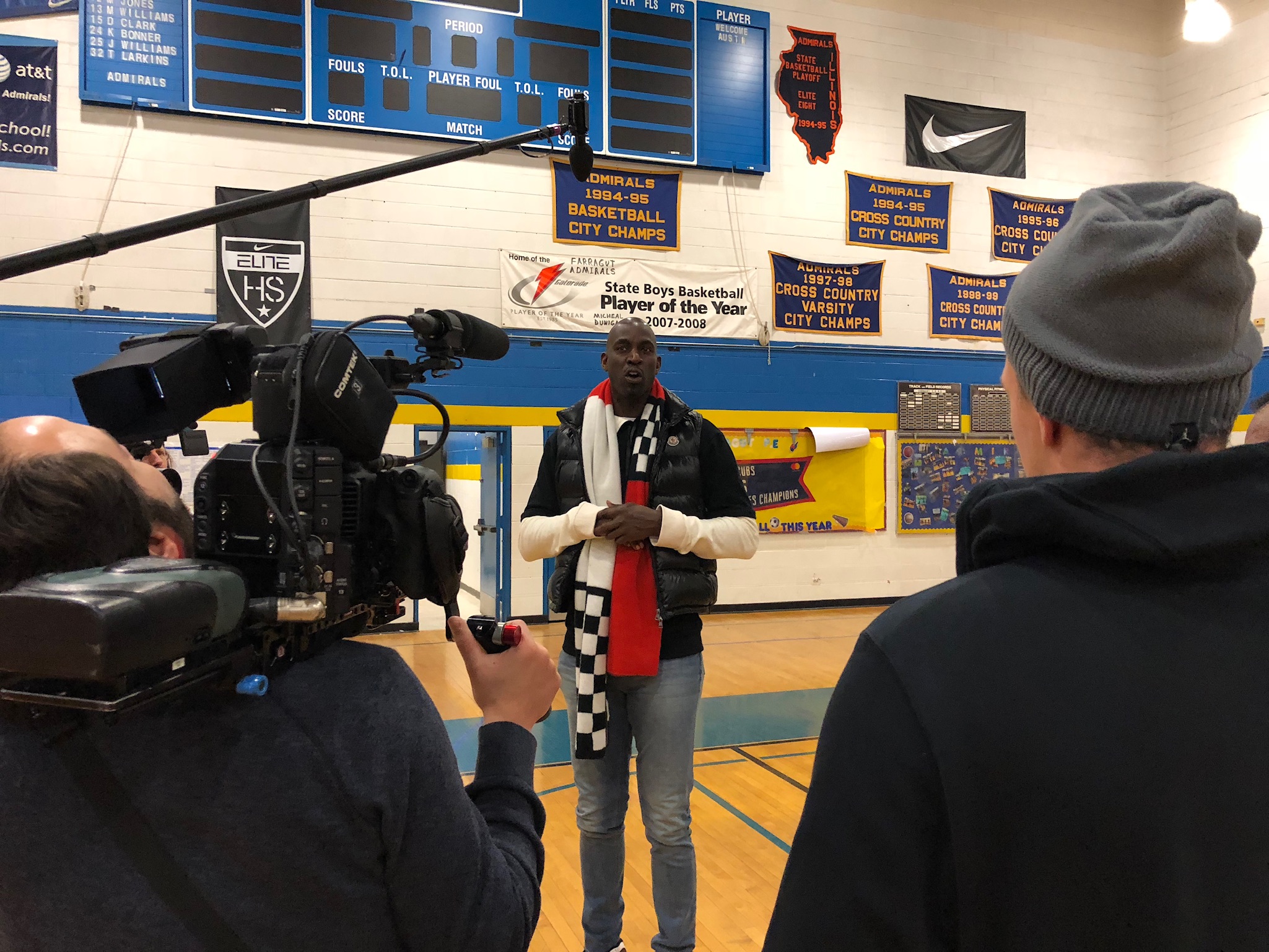 One tragedy practically led straight into another. The COVID-19 pandemic hit, and production was halted for three months. Once it started back up in June, everyone felt like they were making a different type of film with a handful of uncontrollable factors: loss, tragedy and a global pandemic. Everything felt different, and even Kevin—with all of his bubbly energy and excitement—wasn't the same person from the beginning of the year.
"Kevin needed, and I'm comfortable saying this, Kevin just needed time," says Newman, looking back. "Everything that's happened in our world weighs on us all differently and these things were weighing on him, and a lot of the times I have to remind myself, OK, this film is obviously very, very important to the people making it, it's very important to the subject, but it's not the only thing that he's conscious of every day when he wakes up. He's a father, he's launching different things, he's involved in different ventures and projects, so when the timing is right to pick it up, it'll be right and thankfully that happened in June.
The crew eventually had to conduct some of the interviews virtually and had to administer COVID tests when filming in-person at Dream Magic Studio in L.A. Still, they were able to interview Kevin's former teammates, friends and peers, including Paul Pierce, Sam Cassell, Ronnie Fields, Doc Rivers, Rajon Rondo, Isiah Thomas, Danny Ainge, and even Snoop Dogg—all of whom shared stories and insight into who the big man is and the impact he's had on so many people.
Garnett also opened up more and more as production continued and showed moments of vulnerability.
Last October, they all traveled back to KG's old stomping grounds in Minnesota. While there, they took time to pay respect to and mourn the loss of George Floyd. It was then that both of them saw just how impactful these moments they spent with Garnett were. Making a documentary about him was one thing, but in many ways, it felt like 2020 was another character in the film.
"It would be A, foolish and B, completely irresponsible, to ignore what is going on in the world," Dan Levin says. "Whether it's Kobe, whether it's social injustice, police brutality, all of these things and how they affect us—how we were going to do that remained to be seen but we knew we weren't going to shy away from it when the cameras were rolling."
Subjects, in all their glory and accomplishments, are simply humans who have done extraordinary things, but they're also multi-faceted rather than one-dimensional. Many know Kevin Garnett as the dominating, all-imposing and destructive force that he was on the court, with an intensity that oftentimes followed him off of it. That's the KG we've all seen, cheered for and marveled at. He's honest, energetic, personable and entertaining all at the same time, someone who will tell you like it is. Newman, Marangu, Bennett and Marc and Dan Levin have described him as a one-man show, someone whose magnetic personality commands a room. Yet they've also seen him get somewhat uncomfortable with having the spotlight be entirely on him. From the start, Garnett was intensely passionate and hungry for storytelling, ready for the next chapter in his career.
In his own words, Garnett wants this film, and his production company, to keep it just as real as he does. "He was like, Everything I'm watching is soft! Man, it's all treble. I want this to be about the BASS," Marangu recalls Kevin saying.
"It has to be about bass."
---
Photos courtesy of KEVIN GARNETT: Anything Is Possible.
The post Behind the Scenes of the Making of Kevin Garnett's Documentary 'Anything Is Possible' appeared first on SLAM.