What's the buzz on Twitter?
Omari Sanfoka II
@
omarisankofa
Kuzma got fined for giving a Pistons fan a middle finger
pic.twitter.com/JRablUnK5W
–
1:45 PM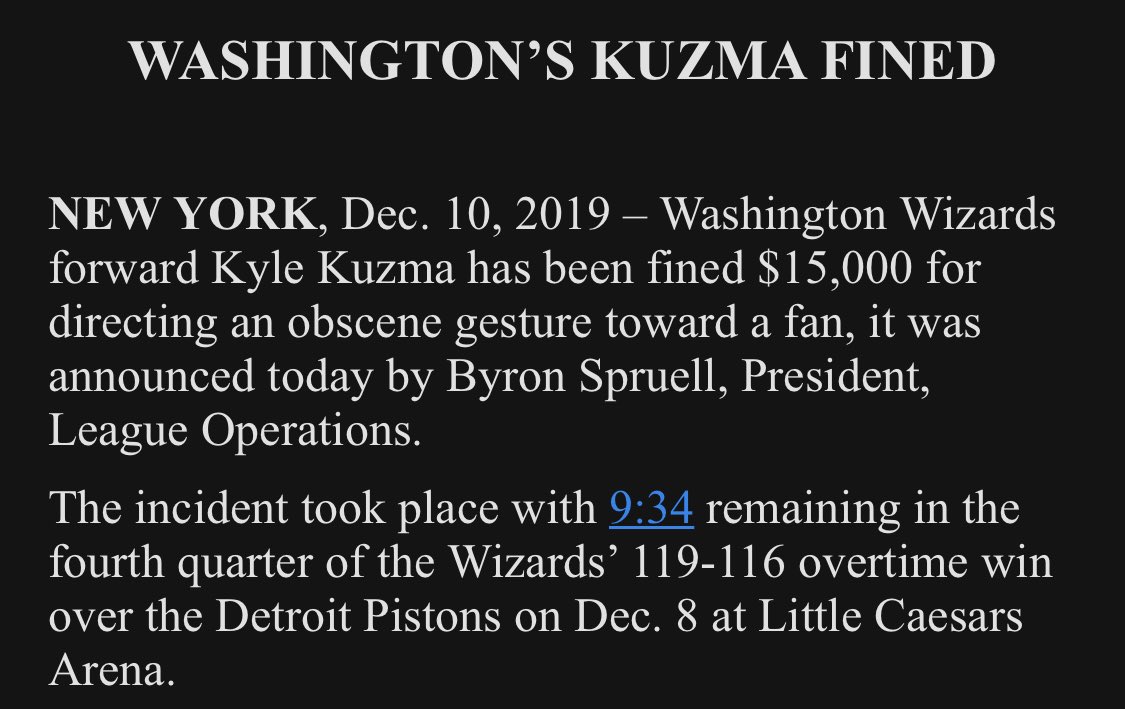 Jeff Zillgitt
@
JeffZillgitt
The NBA frowns upon the middle finger to paying customers. The Kyle Kuzma corner 3 in front of said fan should've sufficed as the metaphorical middle finder.
pic.twitter.com/XeGc2HS6FH
–
1:44 PM

Ava Wallace
@
avarwallace
The league has fined Kyle Kuzma $15k for directing an obscene gesture at a fan in Detroit in the fourth quarter.
pic.twitter.com/V2ODQkIp3C
–
1:40 PM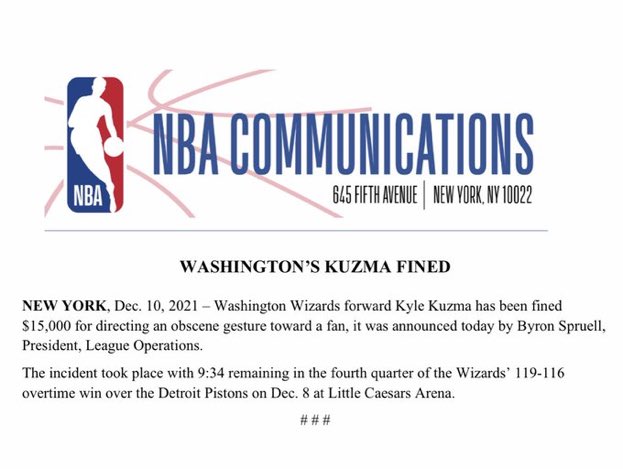 Chase Hughes
@
ChaseHughesNBCS
Kyle Kuzma has been fined $15,000 by the NBA for "directing an obscene gesture toward a fan" in Wed.'s win over the Pistons, the league just announced. –
1:32 PM

Josh Robbins
@
JoshuaBRobbins
Wizards forward Kyle Kuzma has been fined $15,000 "for directing an obscene gesture toward a fan," the league announced. The gesture occurred with 9:34 remaining in the fourth quarter of the Wizards' 119-116 OT win over the Pistons in Detroit. –
1:32 PM


Tony East
@
TEastNBA
Hosted today's Locked On NBA with
@Matt Moore
! We discussed all the action from THIRTEEN games last night, including:
-Harden returns to Houston
-PG-less Clippers beat Boston
-Kuzma (?) and Muscala (?!?!) hit game-winners
And more. Tune in:
https://t.co/iKNGWMFIEb
pic.twitter.com/M96IIvPnD3
–
4:31 PM